Summer music festivals are an exciting and memorable experience. If you intend to camp out for the event, then some pre-planning is a must to ensure you can comfortably enjoy yourself. Here are a few tips and tricks to help ensure your outing is as fun and stress-free as possible.
Camping Gear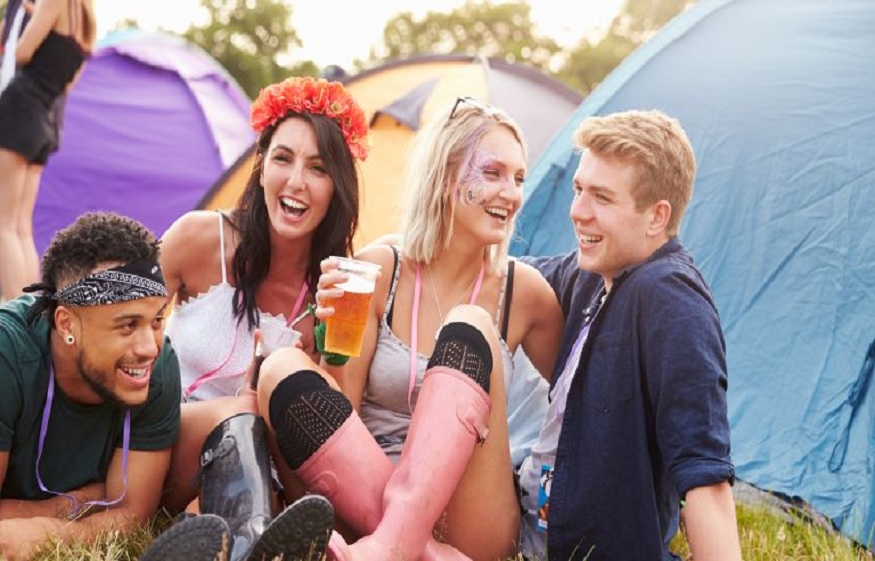 Get a quality tent built to prevent condensation inside and is of a size suited to the number of people who will sleep in it. Nights can get chilly even in summer, so ensure you have sleeping bags for everyone. Sleeping bags are best when paired with a sleeping pad to place on the ground and provide insulation from the cold and hard ground.
Try to arrive at the camping site early to pick out a good spot to pitch your tent. Avoid anywhere too close to the toilets and walking paths. Aim for a level surface but not at the bottom of a hill while also considering wind direction and shade.
Consider bringing along rugs you can lay down underneath the canopy or outside your tent. This will create an excellent space to place your folding chairs. Chairs are a must for your comfort and convenience when just wanting to relax or sit around and socialize with others. Having chairs will avoid the need to sit somewhere uncomfortable, like a hard log or sitting on the cold ground.
Keeping Cool
Stock up on plenty of water. To stay adequately hydrated, keep at least a gallon of water per day per person on hand. Carry more if your party intends to drink alcohol which will dehydrate. Ensure you load your coolers with plenty of ice to help keep water and drinks cold for as long as possible. Besides helping to keep some of your drinks cold, you can also place baby wipes, a spray bottle, and a neck towel in the cooler. Use these items to help cool down your temperature when the heat is at its peak.
Cooking
Festival food can often be a hit or a miss. You will have a better time by bringing along food supplies you can cook. Think of easy-to-make meals like hamburgers, hot dogs, pancakes, pasta, and noodles. Dried rather than fresh fruit are also a good choice. Cookouts are a great way to remain satiated and will allow you to socialize. Pack a camp stove, a cooler, a folding table, and the needed cookware and utensils.
Cleanliness
A big challenge with camping out in a field with many others is that there is likely to be limited access to proper shower facilities. Start by ensuring you give yourself a good cleaning before setting out. Exfoliate and give your hair a good wash and conditioning before moisturizing and slather on sunscreen.
Be sure to stock up on plenty of wet wipes to help keep you refreshed and wipe yourself down when you need it. If you must wash your hair, take along dry shampoo that will not require water. There are also rinse-free cleansers you can use to cleanse yourself without water, then wipe down afterward with a towel. Ensure you also carry along toothpaste and a toothbrush to brush daily. Include a plastic bag to stash away any dirty and wet clothing and bin bags for keeping your camping area tidy