Nestled in the azure waters of the Mediterranean Sea, Capri is a captivating island gem that beckons to be explored. Located off the coast of Italy's Campania region, Capri is renowned for its rugged natural landscapes, historical site, and vibrant cultural offerings. An epitome of Mediterranean yachting destinations, a Capri yacht charter ensures you can experience the island's charm in the most luxurious and enthralled way possible. Explore hidden coves, discover ancient ruins, and indulge in the island's cultural treasures as you cruise along its breathtaking coastline. Here we share our top three reasons to visit Capri by yacht this season.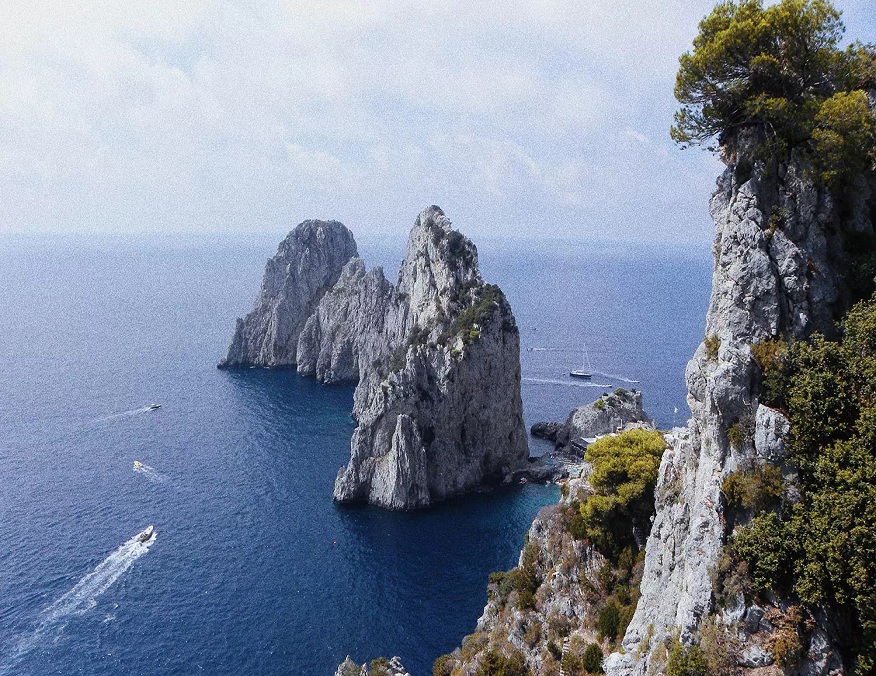 Natural Beauty
Capri is a haven of unparalleled natural scenery, boasting stunning landscapes that captivate all the senses. From the moment you approach the island by charter yacht, you'll be greeted by towering cliffs and rugged coastlines adorned with picturesque grottoes and hidden coves. With its mesmerizing cobalt waters, the legendary Blue Grotto offers an ethereal experience that is best accessed via boat. Exploring the island's coastline via a private yacht lets you witness the breathtaking Faraglioni rock formations rising majestically from the sea, a sight that has inspired artists and poets for centuries. With the freedom to anchor in secluded bays, surrounded by crystal-clear waters, you'll have countless opportunities to dive into the vibrant underwater world and revel in the enchanting beauty of Capri's marine life, which rivals its on-land natural splendours.
Historical Significance
Capri has a rich historical legacy that adds a layer of intrigue to its allure. From the ancient Roman ruins of Villa Jovis, the former residence of Emperor Tiberius, to the iconic Certosa di San Giacomo, a 14th-century monastery that offers panoramic views of the island, history lovers will be immersed in the island's storied past. Exploring Capri's historic sites by yacht allows for a unique perspective as you cruise along the coastline and soak in the ambience of centuries-old landmarks. A private visit to the Gardens of Augustus allows one to witness the island's lush vegetation, meticulously manicured terraces and awe-inspiring sea vistas. A Capri yacht charter allows you to indulge in a seamless blend of history and elegance, with the opportunity to explore several sites at your own leisure.
Cultural Offerings
Capri exudes a vibrant and cosmopolitan atmosphere, offering a myriad of cultural delights. The island's beautiful streets are lined with high-end boutiques, designer shops, and authentic cafés, attracting jetsetters and discerning travellers worldwide. Chartering a yacht provides the perfect means to explore Capri's glamorous coastline, which is dotted with charming towns and villages. Anchor near the Marina Grande and immerse yourself in the lively atmosphere of this famous harbour. Be sure to visit the renowned Villa San Michele, a museum that houses an impressive collection of artefacts and artwork while offering panoramic views of the island's surroundings. From savoring authentic Italian cuisine in charming waterfront restaurants to experiencing vibrant nightlife in the Piazzetta, Capri offers a cultural tapestry that indulges all the senses.
Embrace the allure of this captivating island and head out on an extraordinary journey that transcends expectations with a Capri yacht charter.